The missing piece of Slack
With Workast you can set up projects, create tasks, capture to-dos, set due dates and assign work right from your conversation.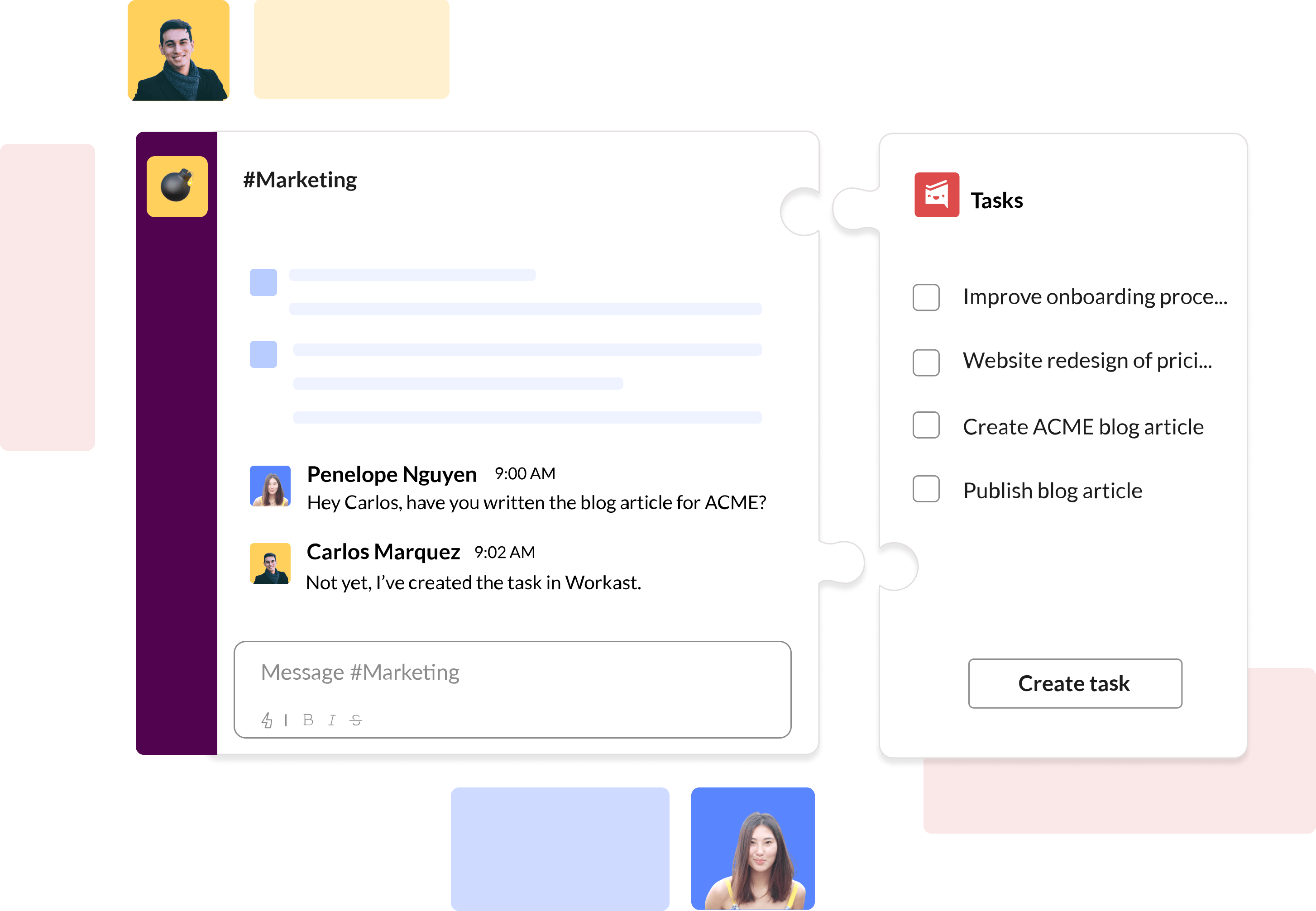 Trusted by over 100,000 teams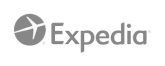 How it works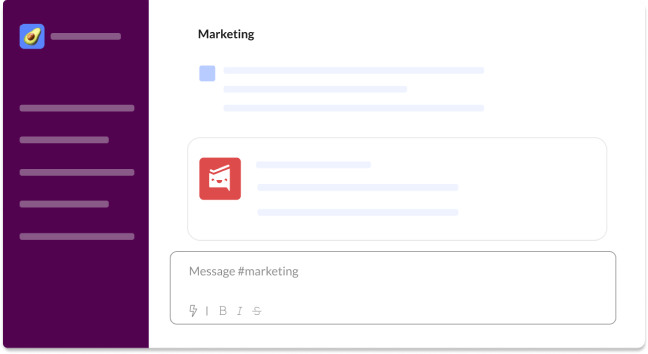 1. Install Workast to Slack
Install Workast to your Slack account and in less than 1 minute, get your team up and running - no invites, separate passwords or accounts. Everyone in your Slack workspace gets access to Workast, instantly.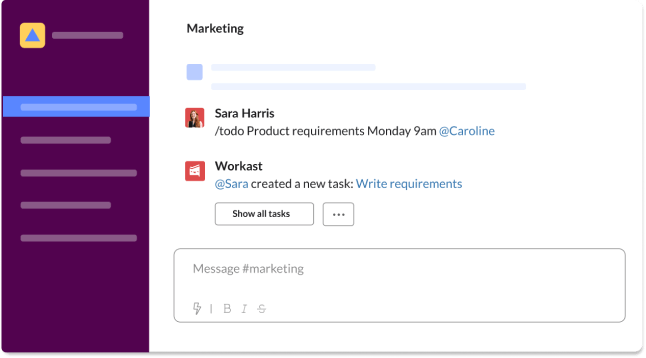 2. Create tasks in Slack channels
There are many ways to create tasks in Slack.
Create tasks using our /todo command, the shortcut button or convert any Slack message into a Workast task.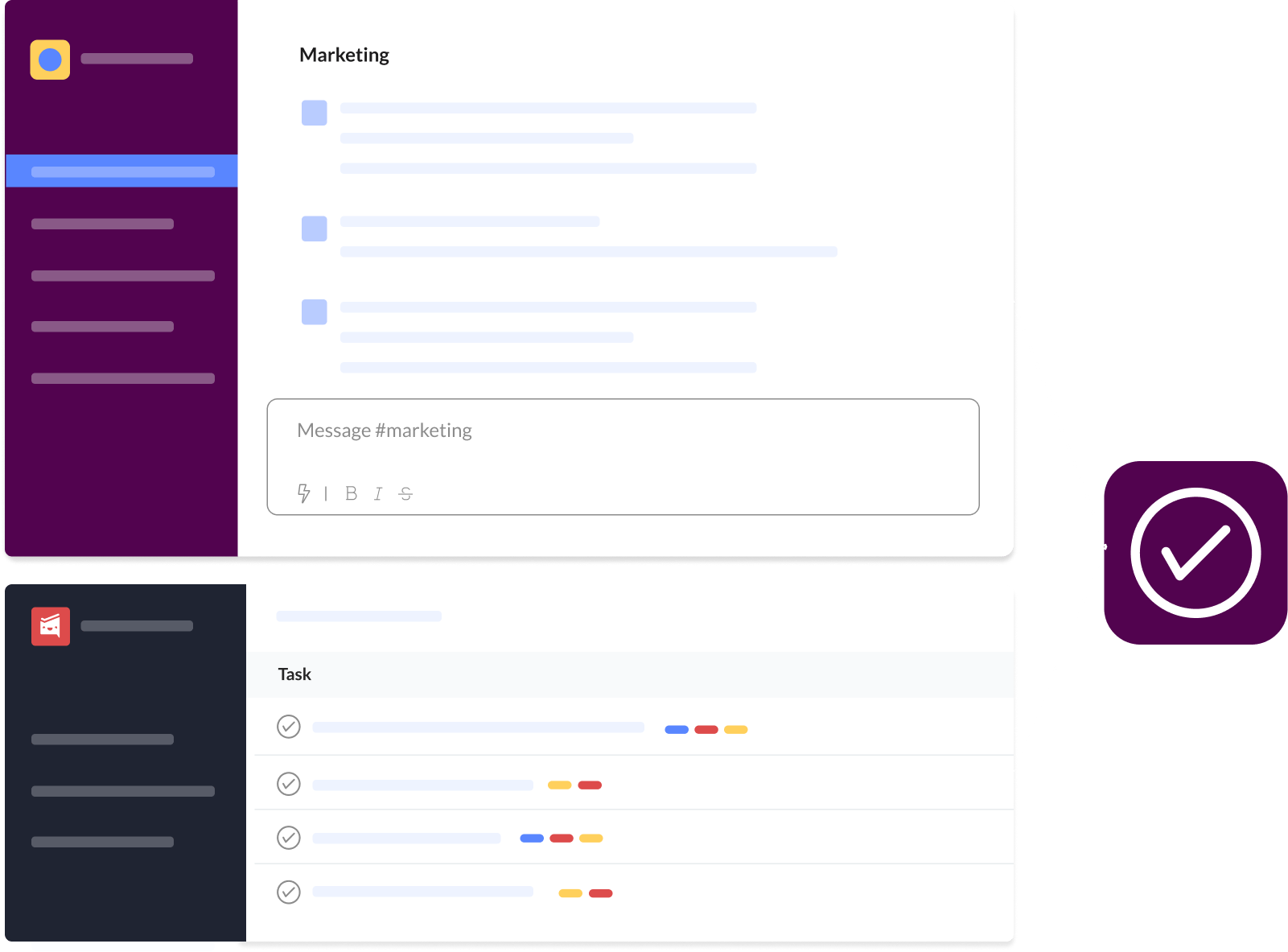 3. Automatically connected and synced
See all your tasks in Slack and in Workast.
Tasks created in a Slack channel are automatically synced with Workast and can be viewed in both places.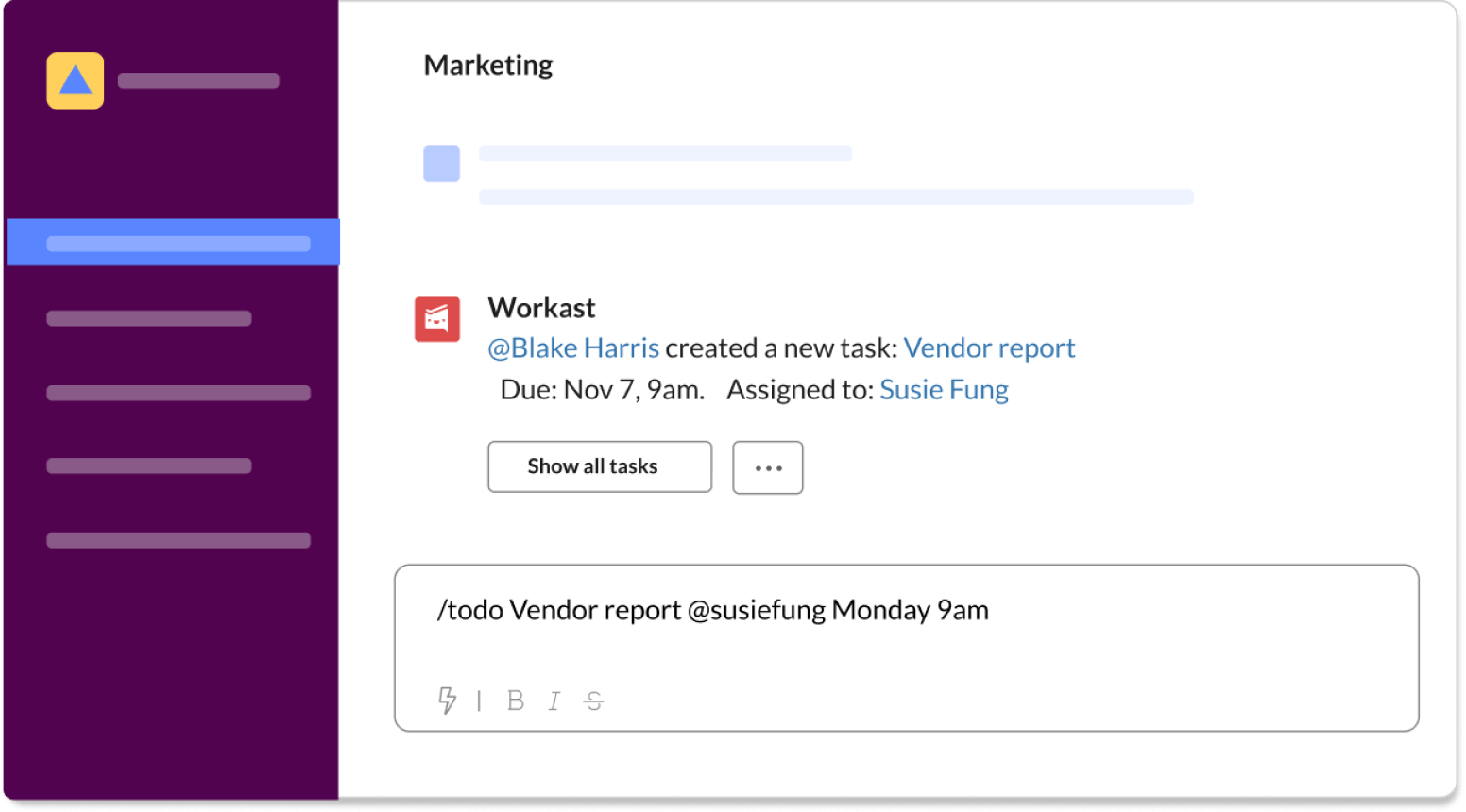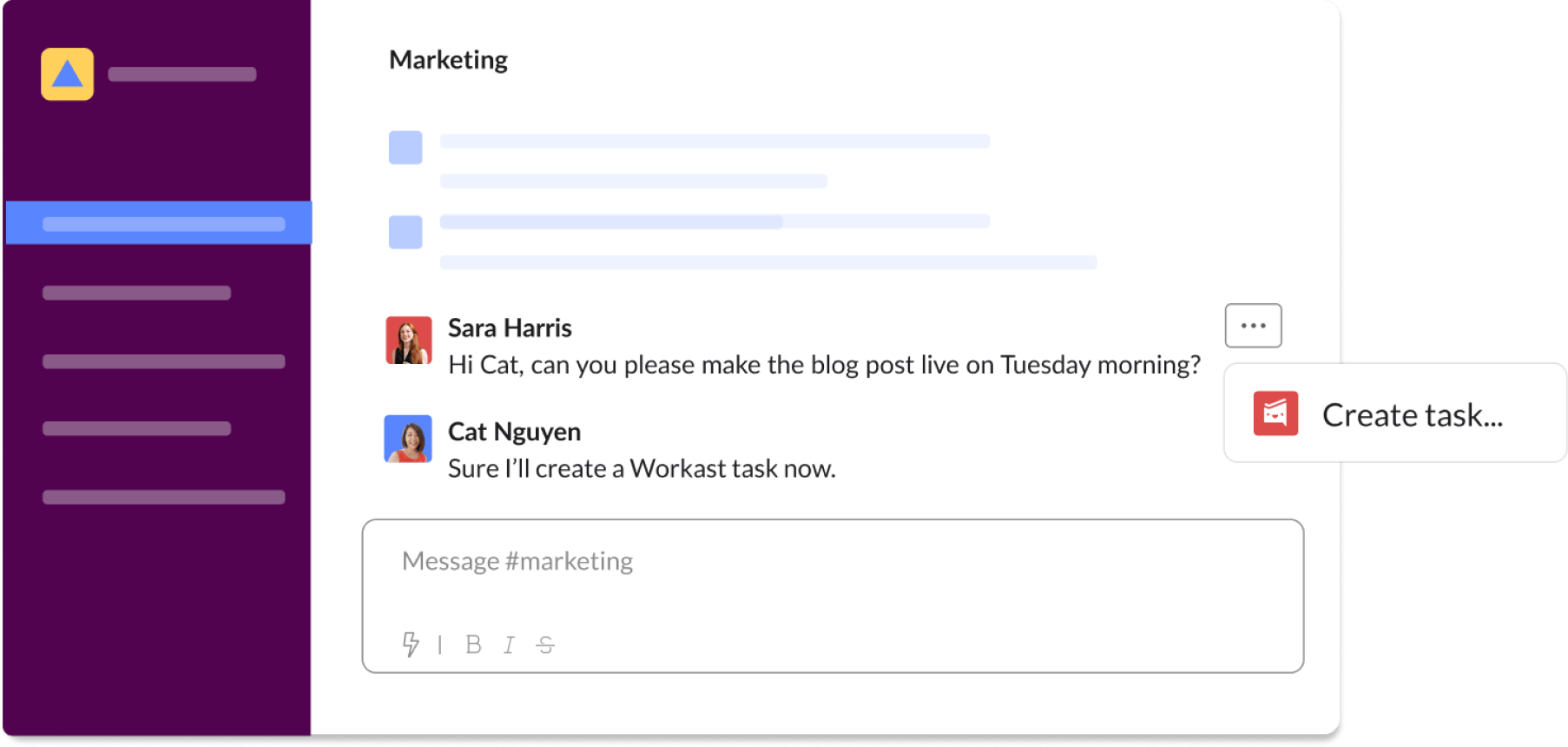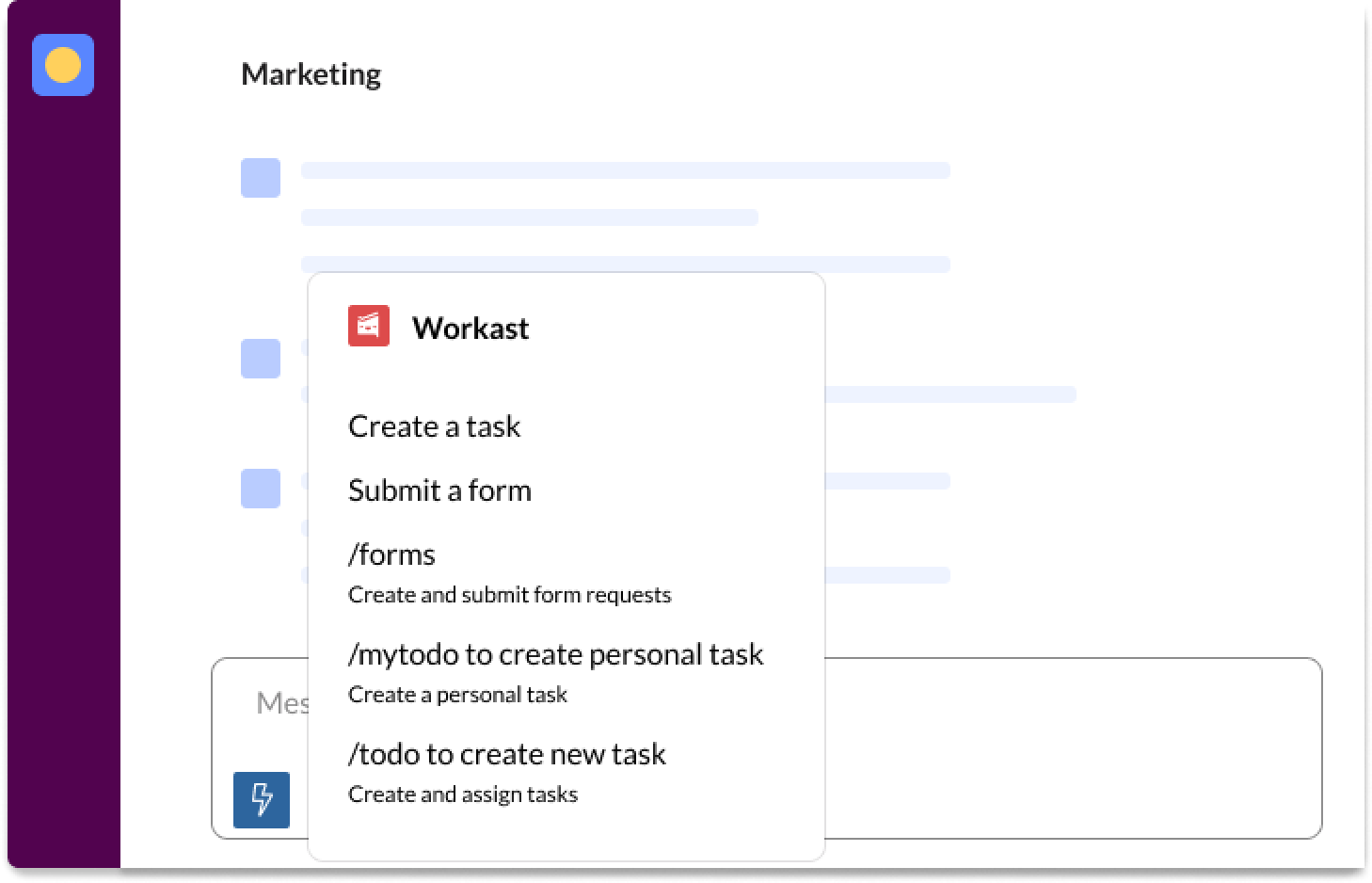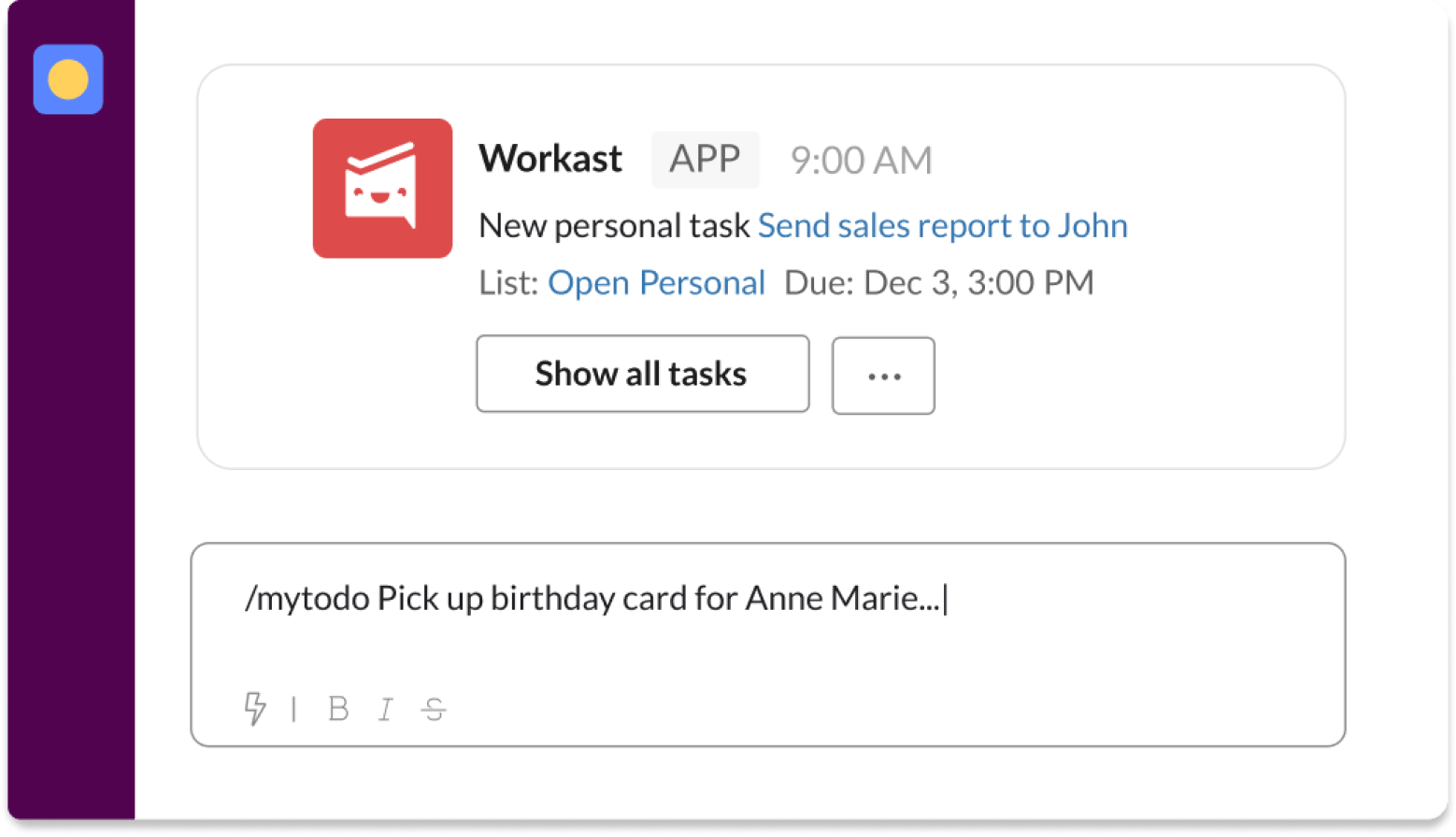 Create tasks directly in Slack
Create tasks directly in Slack
Create tasks directly in Slack
Create tasks directly in Slack
Workast is the only app you need to manage work in Slack. Easily create tasks in Slack when having a conversation by typing /todo. Create a task, assign the task and set a due date all at once.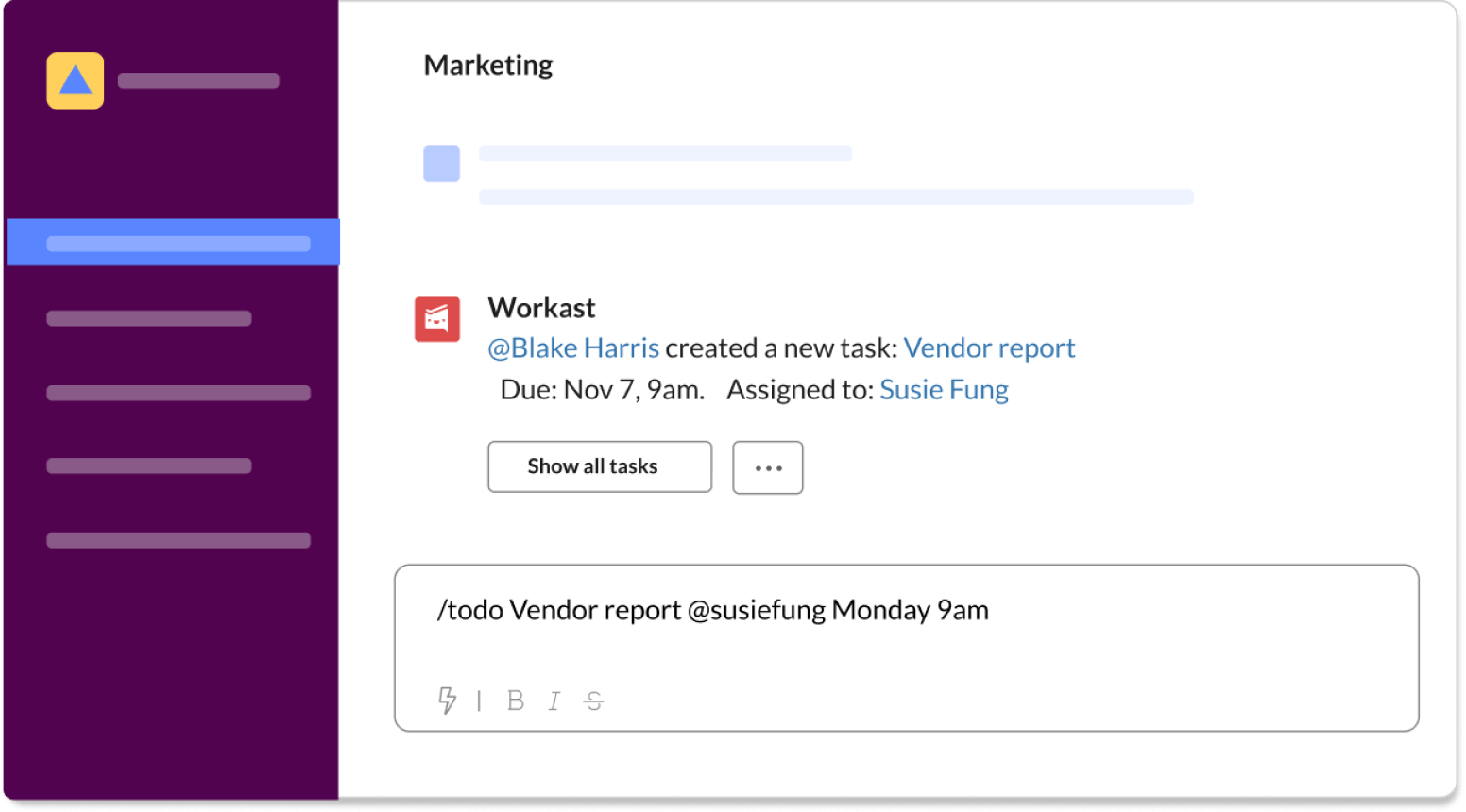 Workast makes it simple for you to track action items. Easily use Workast to turn a Slack message into a Workast task that can be assigned to a team member to make sure work gets done.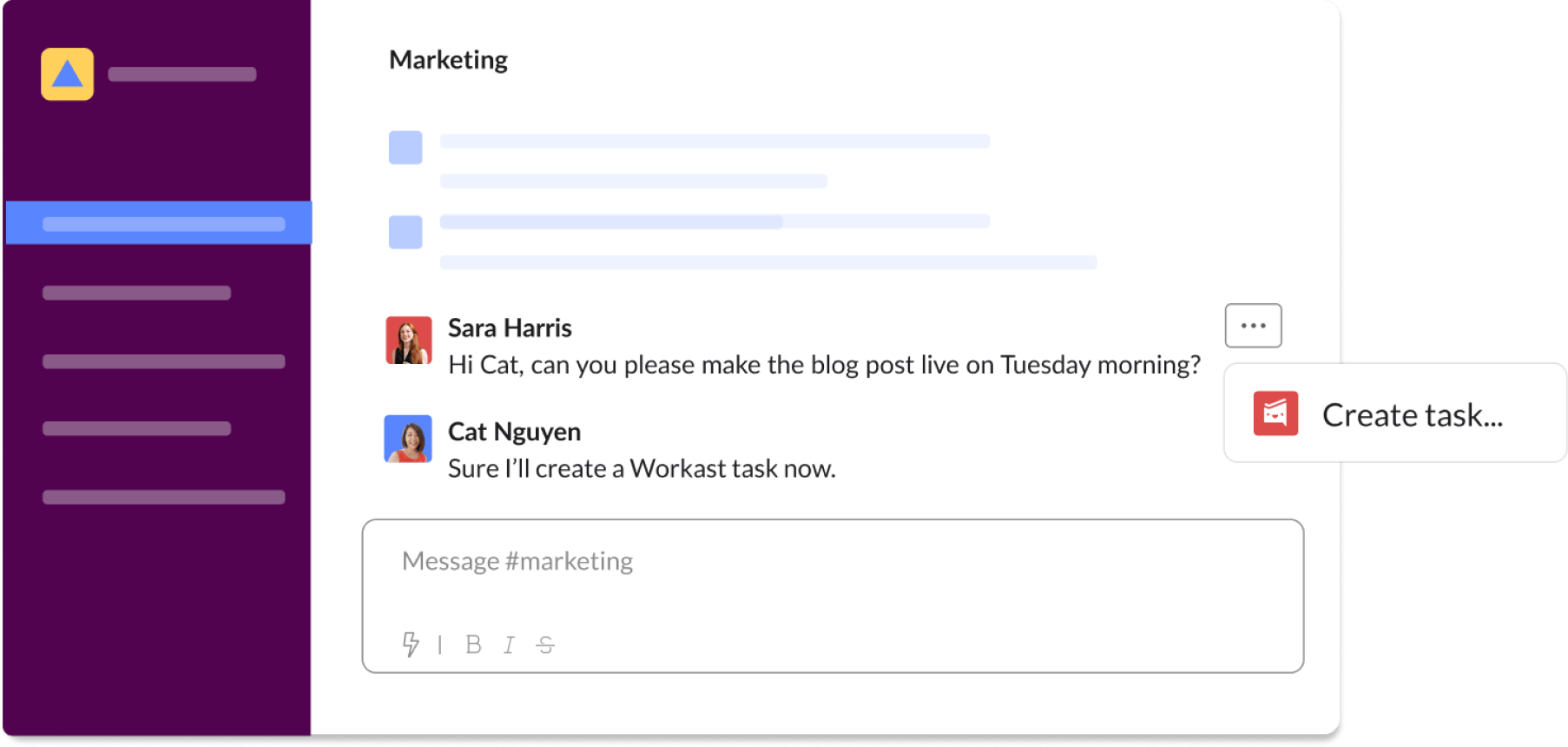 Use Workast's shortcut button in Slack to create and manage work from any channel or conversation. Simply click on the shortcuts menu (⚡ icon) and choose your options.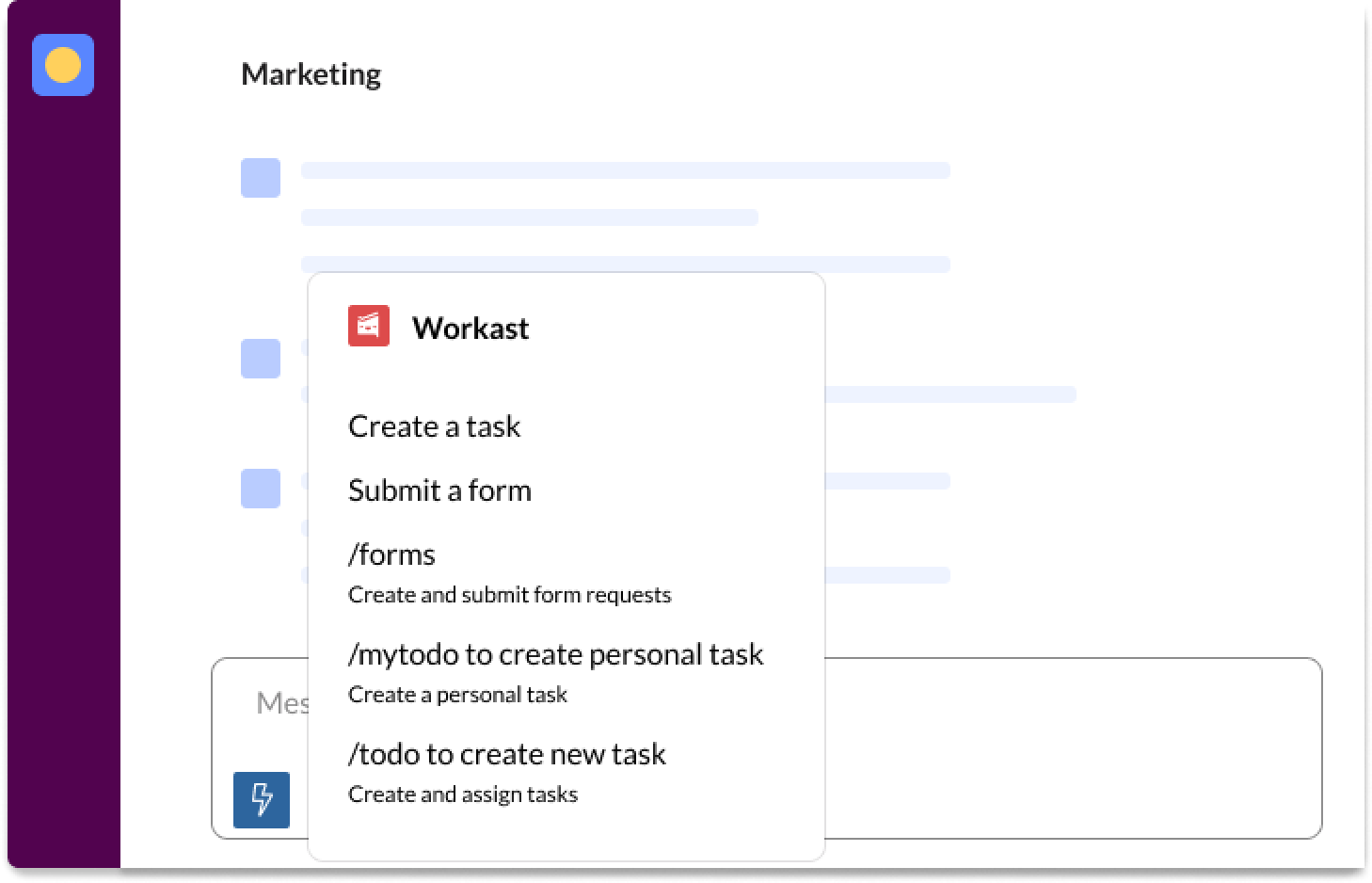 From any conversation, create quick memos for yourself using the /mytodo command. Tasks are organized in your personal space in Workast.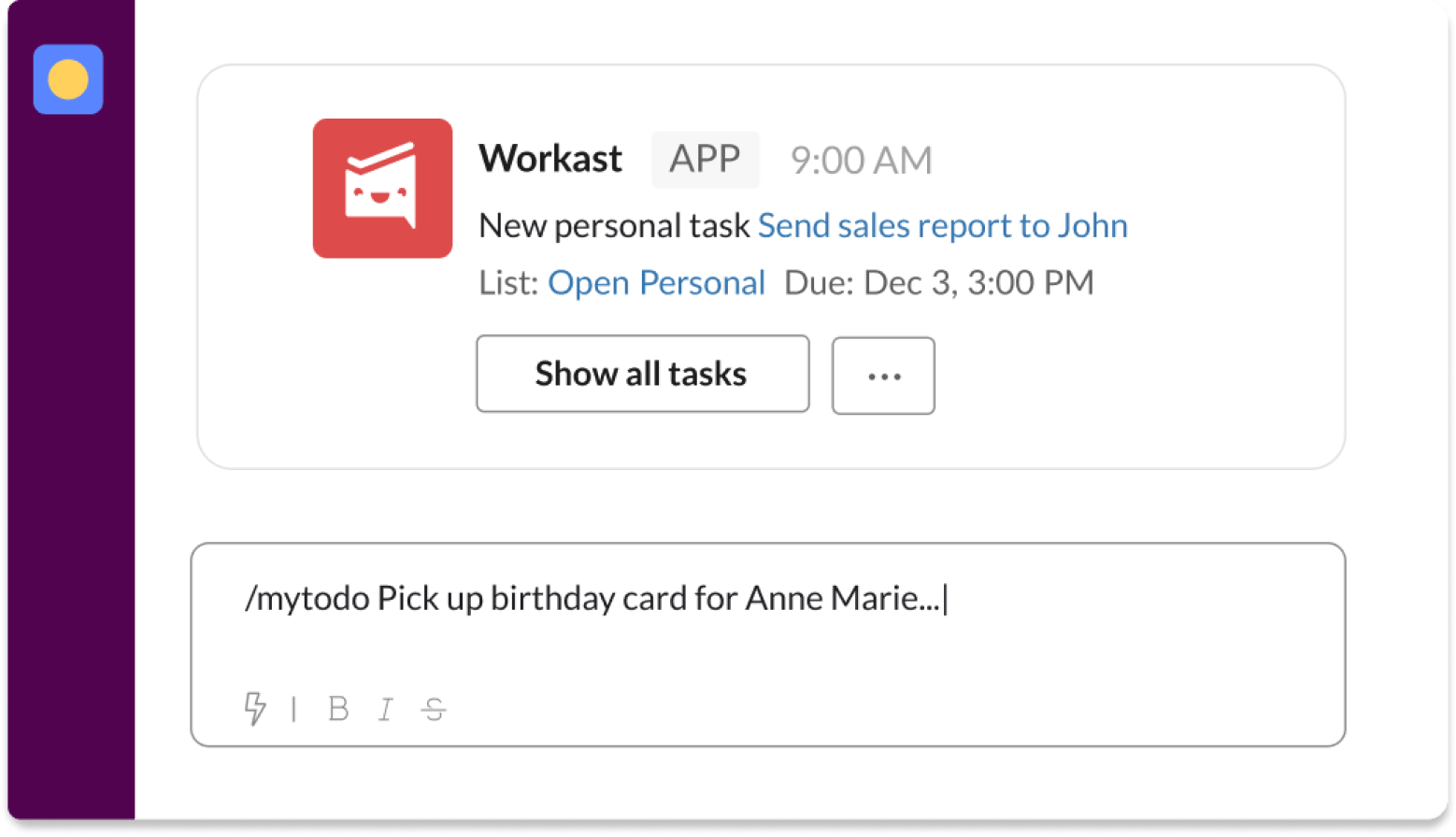 A checklist inside of Slack
See all your tasks for your team in Slack in an easy to use checklist. Easily complete a task, assign it to a team member and keep everyone up to date with what needs to be done.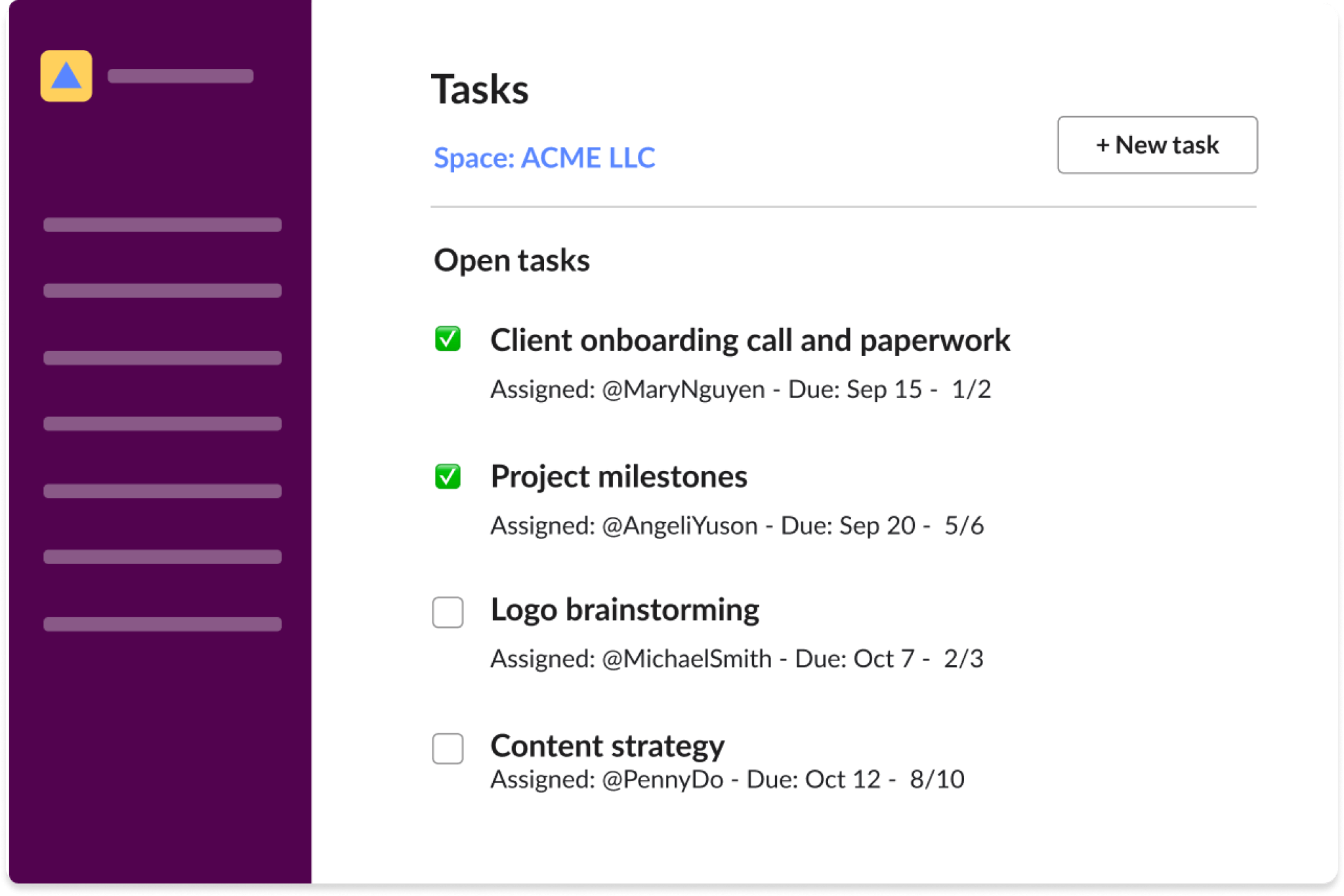 Get started today
Workast is rated #1 in task management in the Slack marketplace. Join 100,000 other companies today.
Manage teamwork in Slack
Supercharge your Slack workspace with Workast so you can manage teamwork directly in Slack channels and keep your team organized.
Easily view, complete, edit and manage tasks in a Slack channel by typing / todo list. This will show all the tasks in that Slack channel.
Want more advanced features? Simply open Workast and manage all your teamwork in board or list view.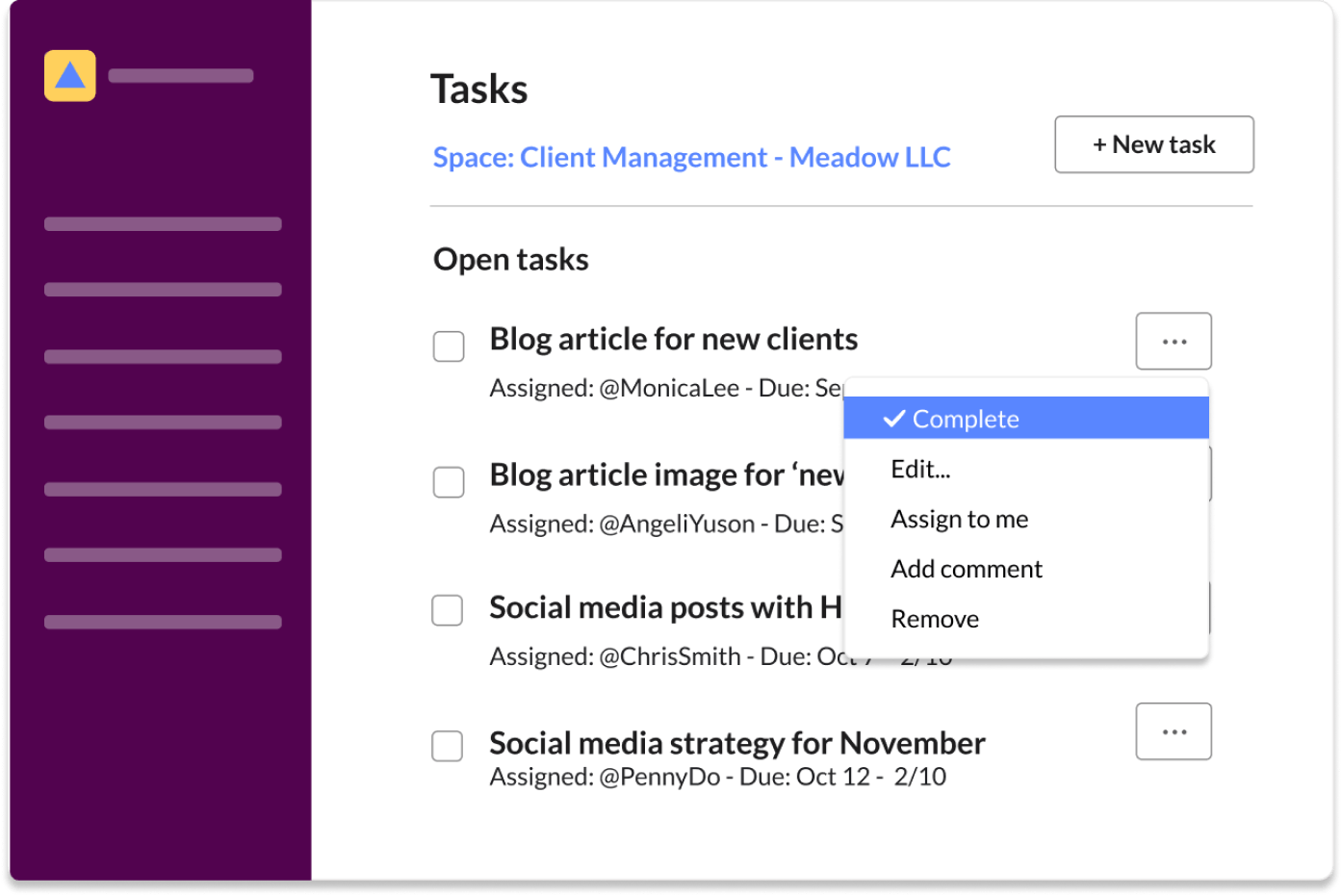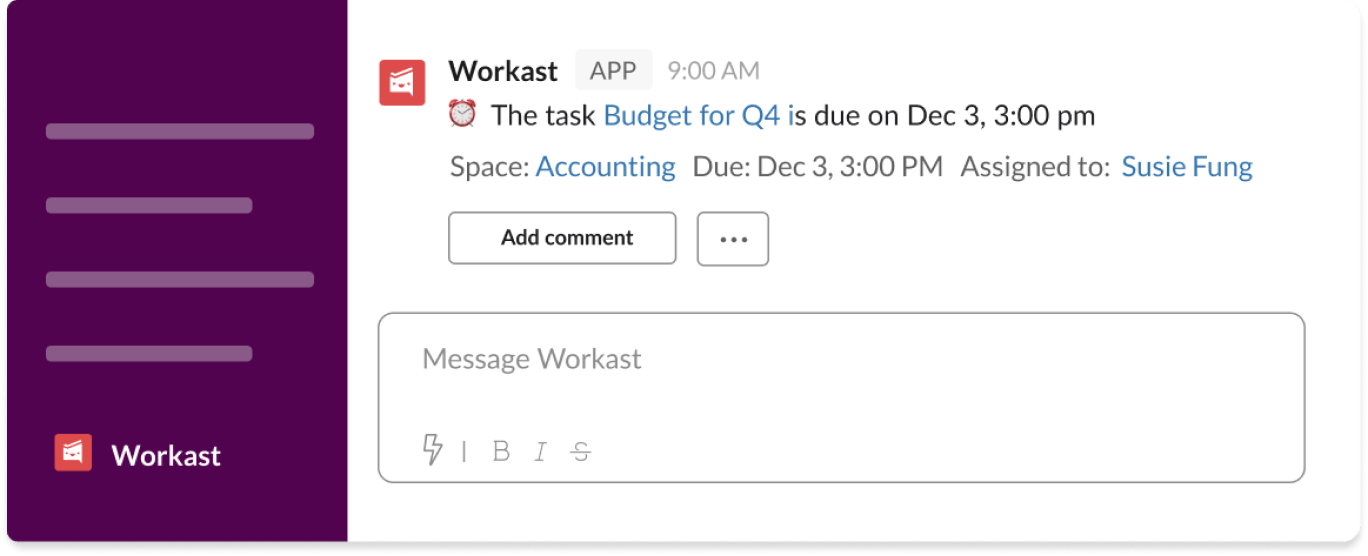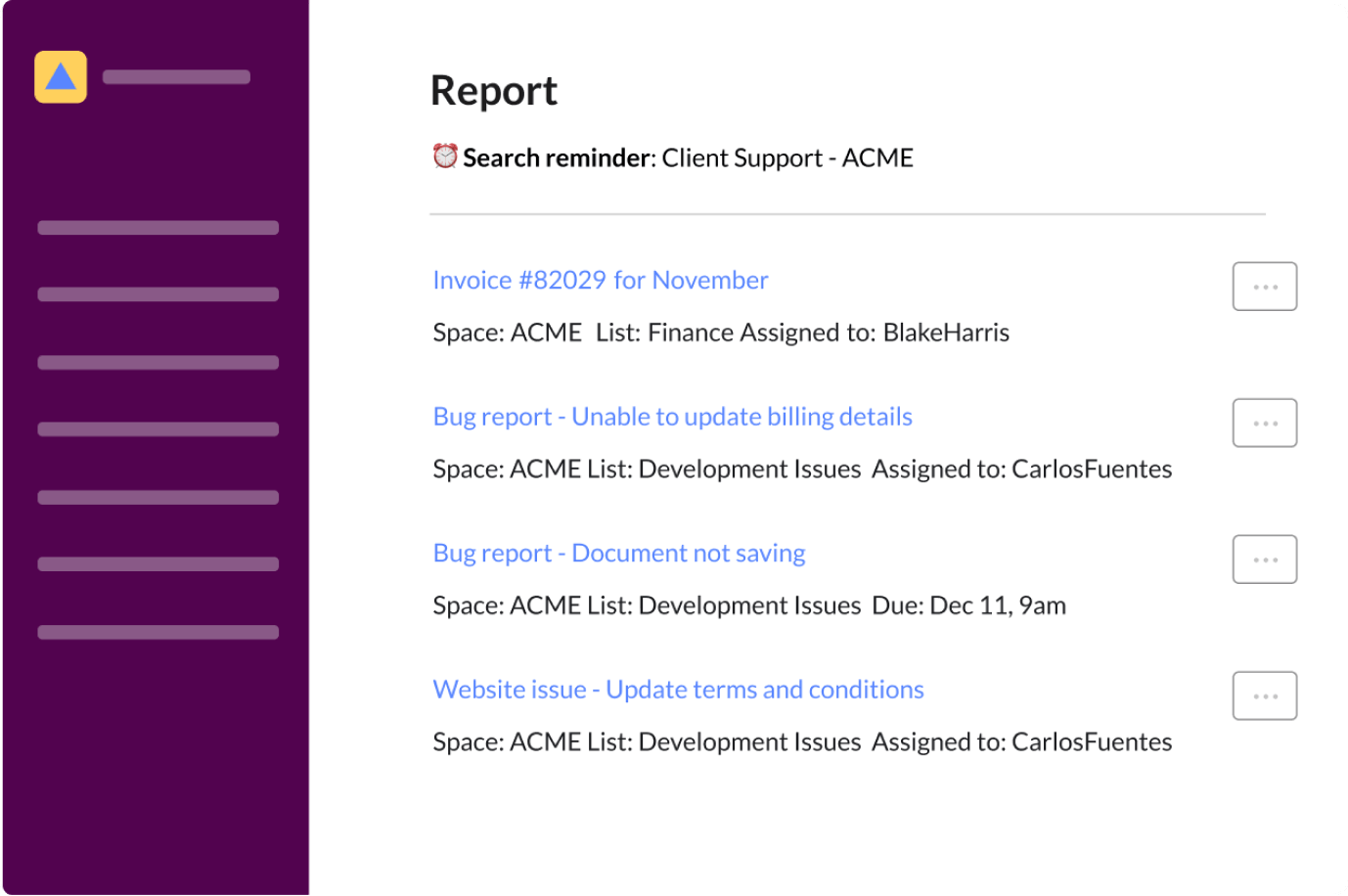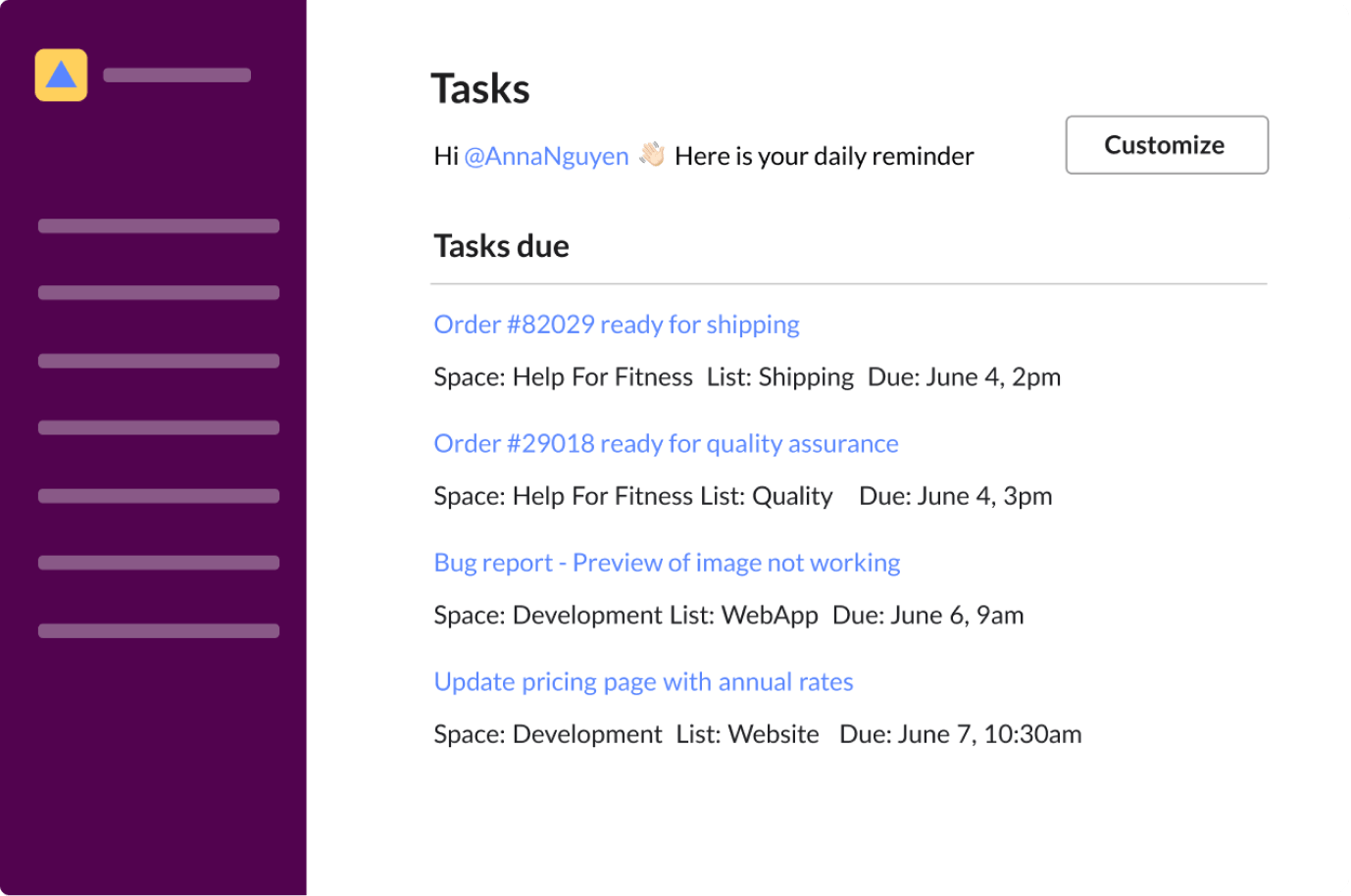 Updates and notifications directly in Slack
Receive custom reports in Slack
Daily reminders for all your work
Workast sends all task updates and reminders through Slack so you can keep your email inbox free of clutter. No need to keep switching between email and Slack to see the progress of a project - notifications where you need them.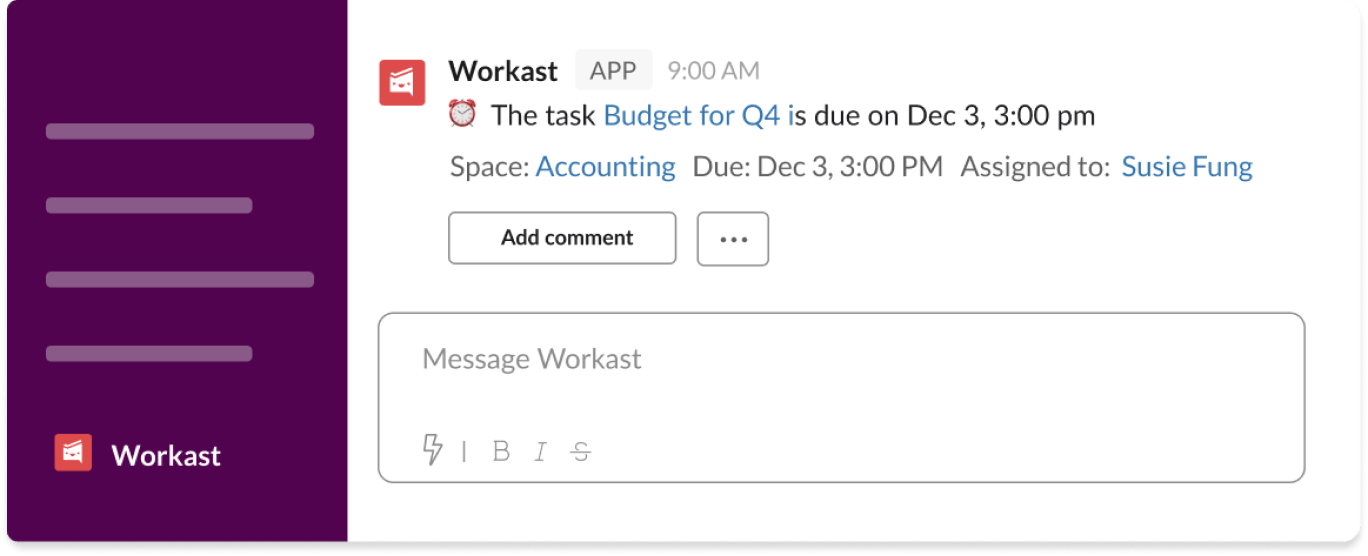 Create a custom report in Workast and select how often you want to receive the report. Workast will deliver the list of tasks to your Slack account and a copy to anyone else that needs it.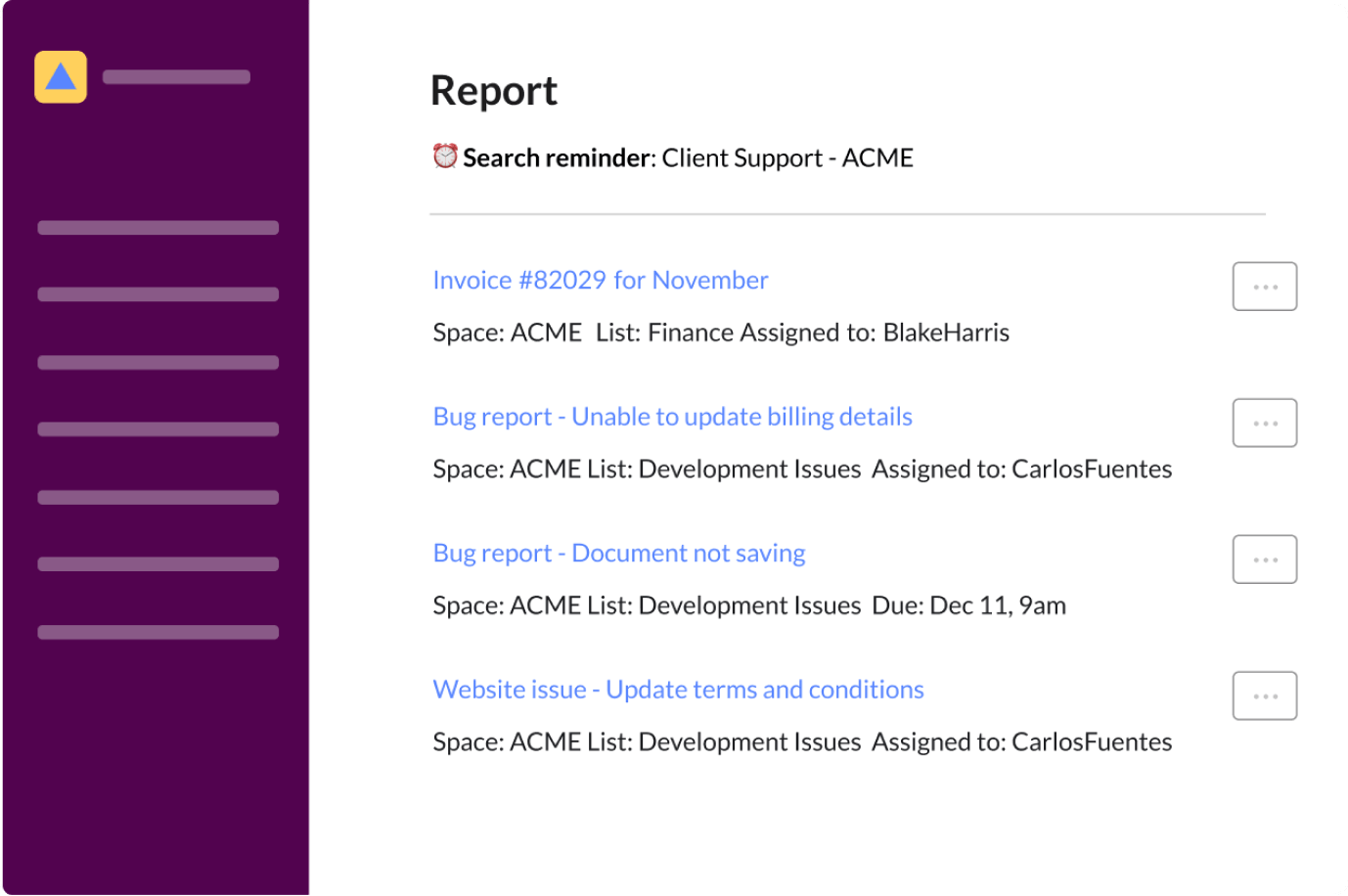 Receive a daily task list of the things you need to do for the day in Slack so you can keep on top of all your work. Customize the reminders to suit your needs!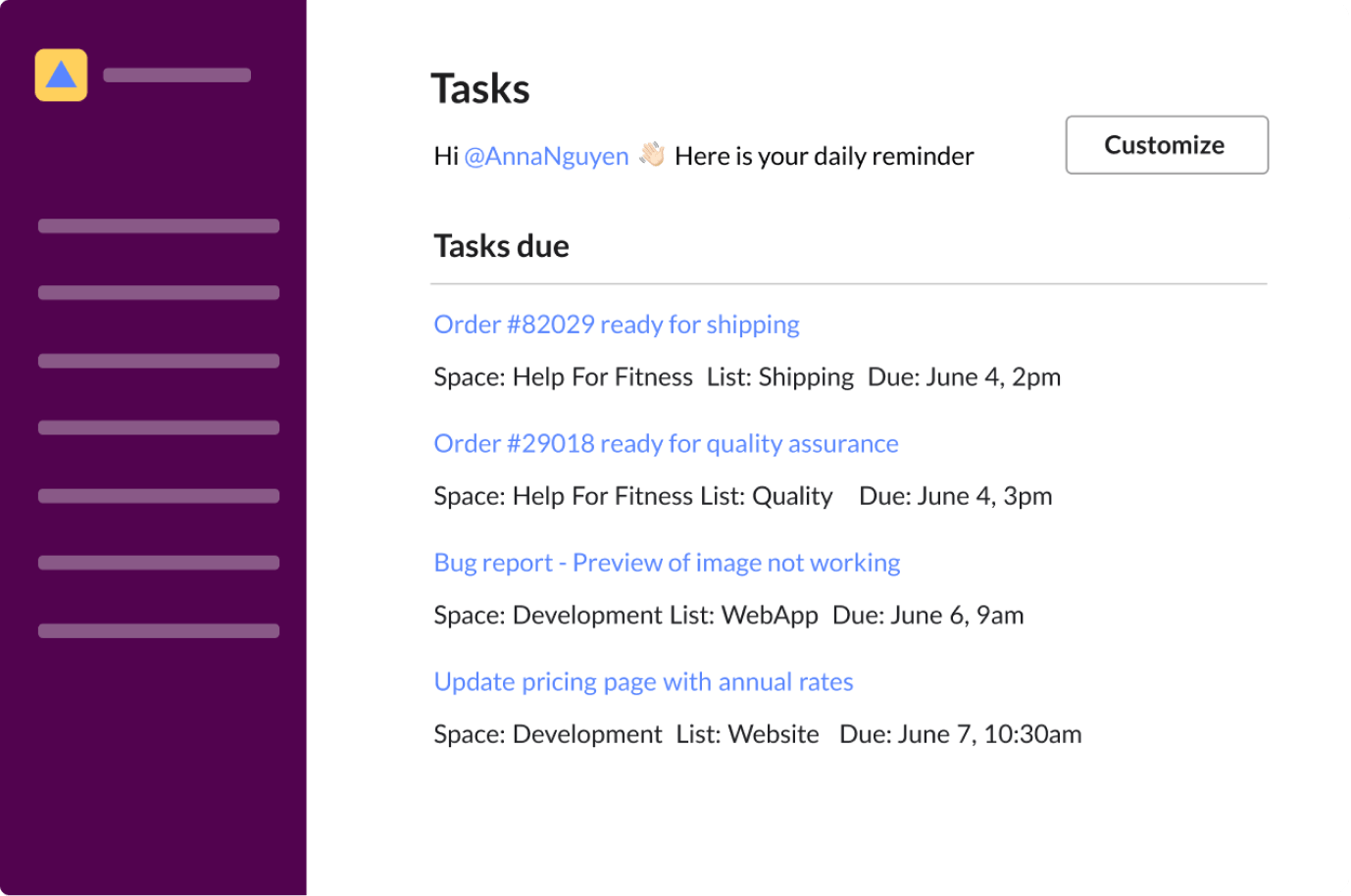 Get teamwork sorted
Start managing your teamwork today with Workast. Install Workast and get up and running in less than a minute.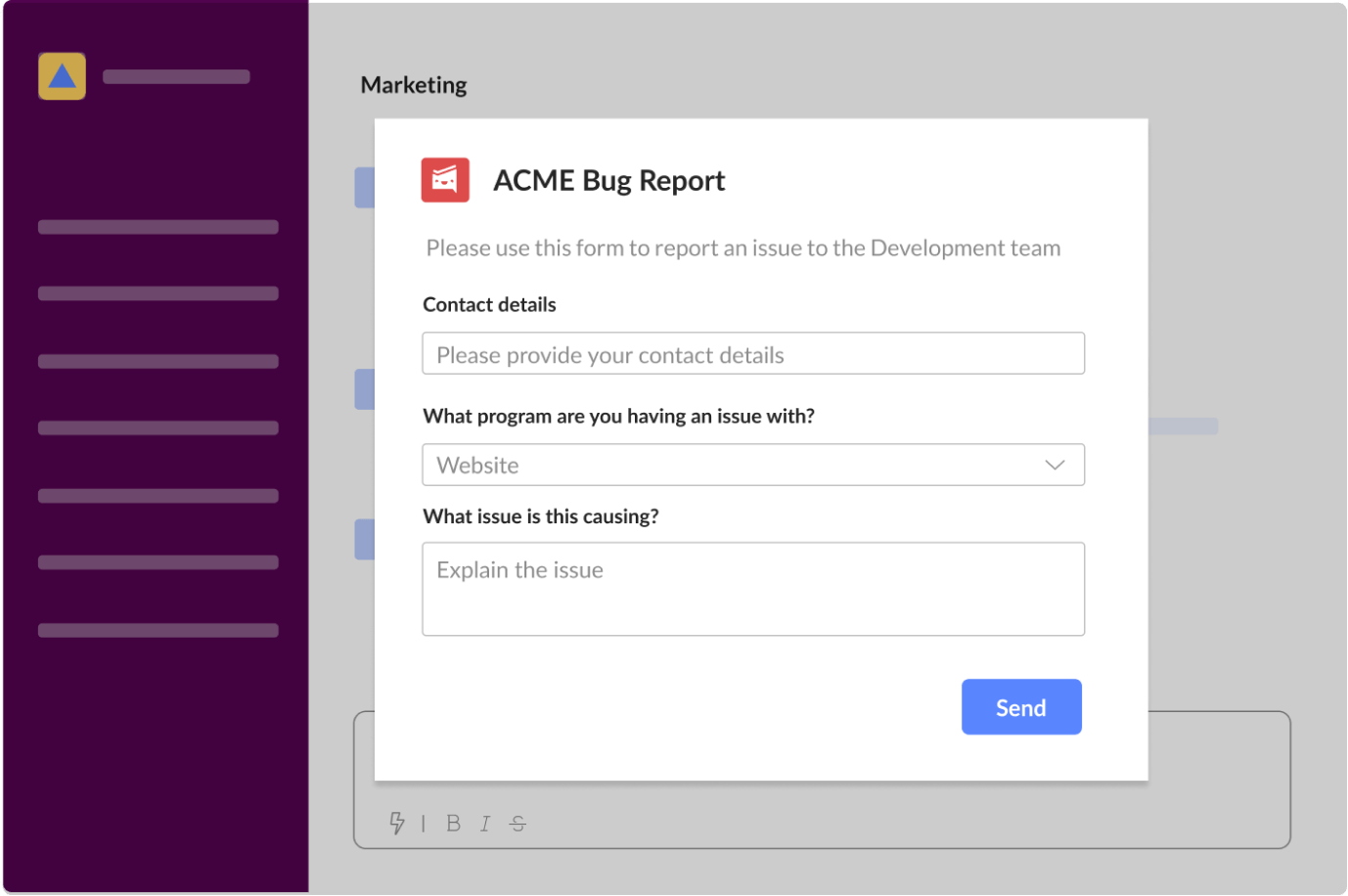 Complete custom forms in Slack
Streamline how you receive work by creating a customized form in Workast.
Team members can complete the form from within Slack and a task is automatically created in Workast.
A new step in the Slack Workflow Builder
Already creating workflows in Slack?
With Workast you can "Create a Task" and connect this step to existing workflows to take your automation one step further.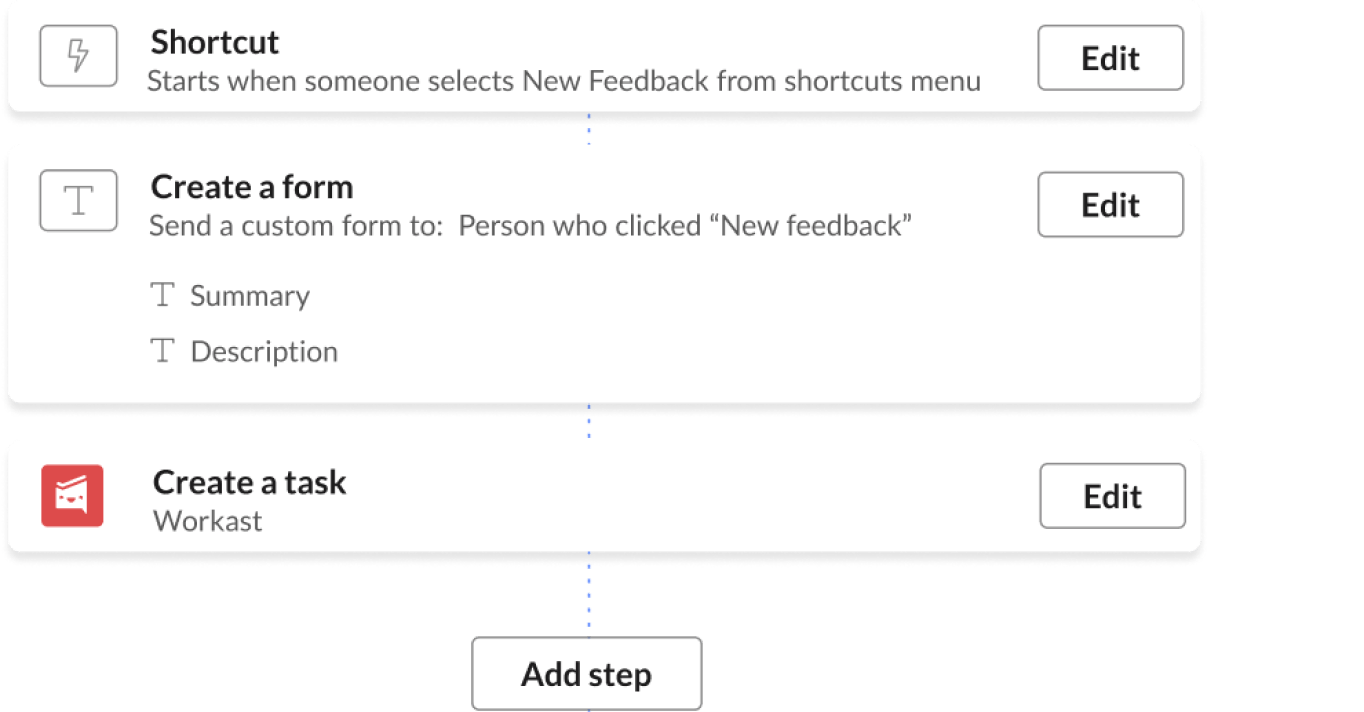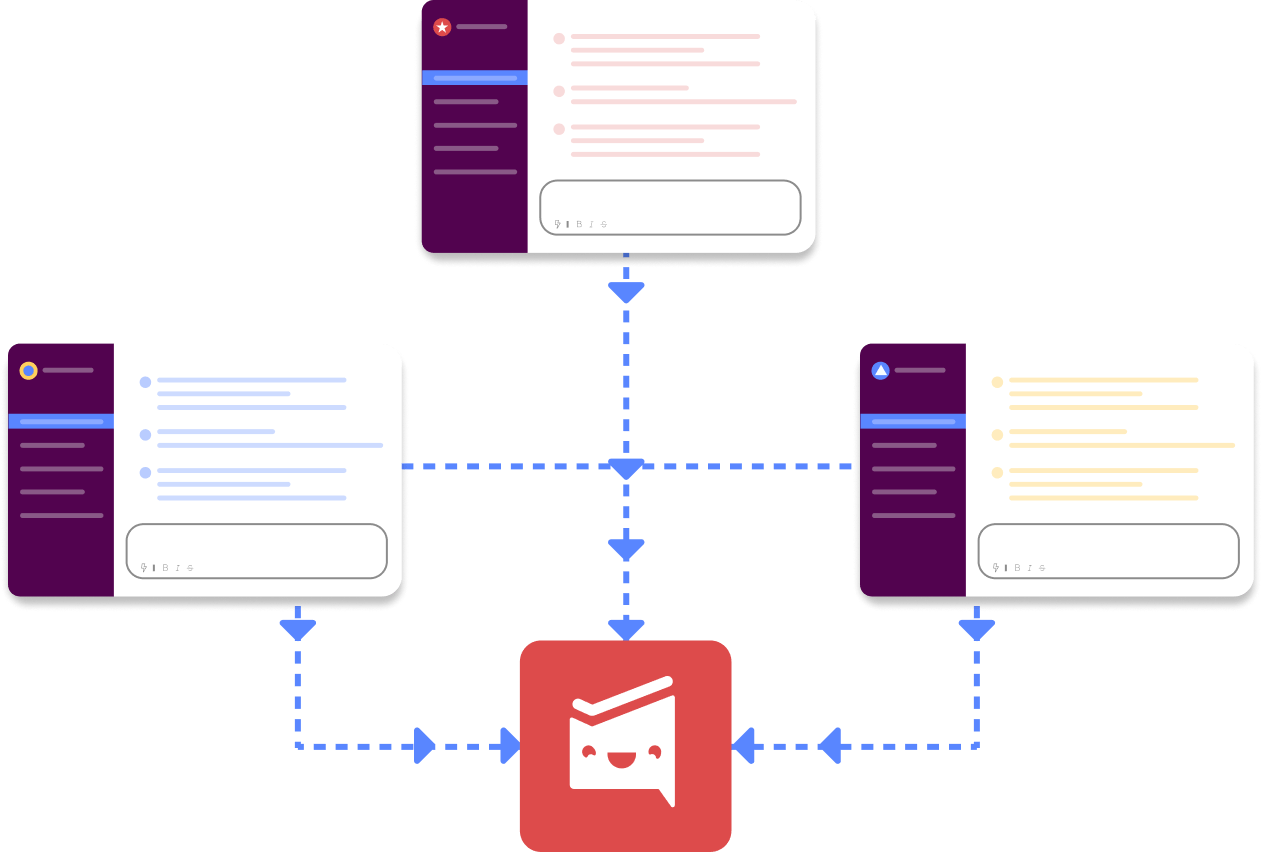 Slack Enterprise Support
Many large organizations with multiple Slack workspaces like IBM, American Express and Intuit have rolled out Workast to their employees, easily and securely.
If you have a custom SSO we support it out of the box in our Essential plan.
We automatically do user provisioning and deprovisioning keeping your Slack users in sync with Workast. Book a meeting to discuss enterprise features in more detail.
Testimonials
"Workast allows us to manage our technical team around the world. Workast can assign tasks, track what needs to be accomplished, streamline business processes, run meetings, and gain visibility all at once."
Get started now
Install Workast to your Slack workspace and start organizing your team work today.